UK Fintech Week will take place on 17-21 April, with a wealth of international fintech companies travelling to London to participate at the event.
Ahead of the event, Aarti Patel, Associate Director, and Winnie Seow, Asia Market Lead, at Hawksford take look at the UK fintech industry, and the opportunities available for fintech companies looking to expand into the UK. If you're a fintech company considering expansion into the UK, please speak to us to find out how we can support you.
The UK is a global fintech hub, with extensive financial services experience, technological talent and progressive regulation. The UK accounts for 11% of the global fintech industry, and it is home to an estimated 2,500 tech firms. Six of the top ten fintech companies, as ranked by Fintech50, have their headquarters in London, while the top 16 UK fintech unicorns have an combined market cap of more than £60 billion.
In its 2022 annual report, Innovate Finance (the UK's fintech industry body) found that despite a slowdown in investment, the UK is ahead of the curve and has retained its position as the leading nation for fintech in Europe, and the second best globally, behind the US. A separate report also found that the UK fintech sector received approximately US$12.5 billion (£11.4 billion) in investments last year.
What are the opportunities for fintech firms in the UK?
According to the UK Department for Business and Trade, there are five key areas where fintech companies can explore:
Payment technology (Paytech): The UK is at the forefront of the payment technology revolution, with investment opportunities in digital commerce, cross-border payments, mobile POS payments and more.
Wealthtech: Wealthtech is transforming the investment and asset management industry. There are significant opportunities for robo-advisors, portfolio management tools, micro-investment and social trading platforms, as well as business-to-business (B2B) software solutions.
Credit and lendingtech: Lendingtech offers solutions that allow lenders to power and improve their payment processing time. It offers personalised experiences for loan and mortgage customers and is expected to be an area of high growth.
Digital banking: Almost 25% of British adults have an account with a digital-only bank, while 66% of banking customers say they plan to fully convert to a digital bank in the future.
Distributed ledger technology (DLT) and digital currencies: The application of blockchain technology in the financial sector is expected to reach a global market size of a £16.7 billion by 2026. Cryptocurrencies and trading platforms, non-fungible tokens (NFTs), alternative asset trading and support structures are expected to dominate the market in the near future.
Overall, the UK has a clear strength in wealthtech (including personal finance management and cryptocurrencies) and payment technology, accounting for more than 50% of all UK fintechs.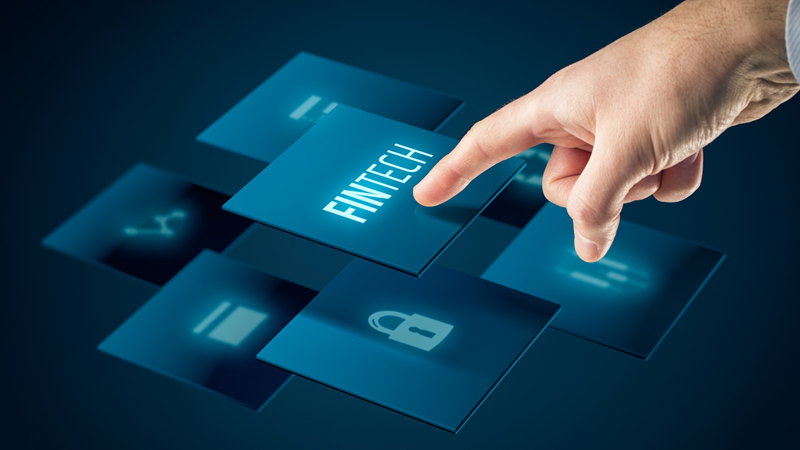 How does the UK fintech ecosystem help fintech companies thrive?
Access to talent pool
The UK's finance and tech sectors, coupled with world-class universities provide a large pool of talent for fintech. Around 76,500 people across the UK work in the industry, with this set to grow to 105,500 by 2030.
Furthermore, 42% of the international workers work in the UK fintech space and the sector thereby benefits from a wide pool of global talent. The Global Talent Visa in digital technology is also set to further attract and fast-track digital tech talent from around the world.
Access to investment and capital
Fintech accounts for approximately 50 % of venture capital in the UK. A report published by Dealroom shows that the UK fintech sector received a total of £11.4 billion of investment in 2022. The same report indicates that when comparing industry investment for the UK and Europe, a much higher degree of investment went into fintech within the UK (30%) than in Europe (21%). Easy access to capital backed by a solid angel investor community is key for supporting fintech startups with scaling and growing into multinational businesses.
Global connectivity
As a leading global financial centre, the UK is home to more than 90,000 diverse international financial and professional services companies, including specialised law and consulting firms. This creates an emerging business ecosystem, available to provide the right support to the fintech sector.
The UK has also entered five fintech bridge agreements with other fintech hubs including Singapore, South Korea, China, Hong Kong and Australia. These bespoke agreements create valuable opportunities for expansion and collaboration by reducing barriers to international markets.
Research and development (R&D) capability
Centres of excellence for technology are found across the UK, specialising in fintech, financial services, big data, computer science, cybersecurity, data analytics and artificial intelligence (AI). Fintech accelerators and incubators in the market create opportunities for startups to develop their fintech solutions. A number of corporate accelerators have also joined the landscape, including the Barclays Accelerator, NatWest Entrepreneur Accelerator, JP Morgan and Goldman Sachs.
Business and government support
The UK has set the global benchmark for policy-led innovation, with key initiatives such as the creation of the FCA's Regulatory Sandbox, Centre for Finance, Innovation and Technology (CFIT), Global Financial Innovation Network (GFIN), open banking framework, reforms to the capital markets and listing rules and AI Sector Deal. The FCA has also taken measures to reduce the regulatory burden for fintech companies through its Innovation Hub scheme.
The UK government also offers various tax incentives for investment in startups, such as the Seed Enterprise Investment Scheme, Enterprise Investment Scheme, Venture Capital Trusts, Small and medium sized enterprise Research and Tax Development Credit etc.
How can we provide support?
Hawksford has extensive expertise in local markets, robust structuring capabilities, and experience with international clients – all of which enables us to assist you with starting and running a business in the UK.
Clients can benefit from our specialised sector experience across many industries, including the fintech sector.
We are a cohesive team offering a range of services, including:
Outsourced finance and accounting
Corporate tax
Governance,
Risk management,
Compliance and regulatory advice
Registration with the Financial Conduct Authority (FCA)


We work closely with other professional partners including auditors and specialist lawyers and consultants. We are experienced in working with entrepreneurs and growing businesses, and therefore understand the many issues faced by fintech businesses and startups, such as managing rapid growth and developing an international approach from the onset.
If you're a fintech company looking to expand into the UK market, please contact us to find out how we can support you with your expansion plans.